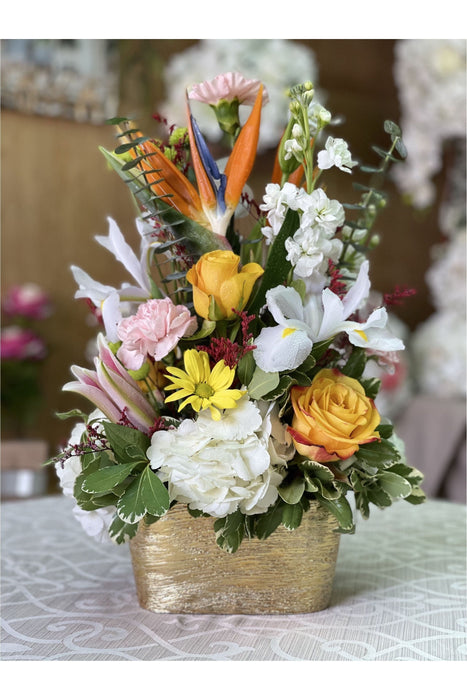 Birds Eye
Original price
$60.00
-
Original price
$60.00
What is everyone saying?
The team at Eclore Floral are amazing. I needed a bouquet of purple flowers for a coworker delivered the same day and they were so friendly, professional,accommodating and helpful. They even made sure the flowers were placed in front of her door when she wasn't home. Thank you to Abraham and each person who made this happen in such a timely manner. The arrangement was gorgeous. Please don't hesitate to use their services for all your floral needs. Thank you a million times!
Alexis salkey
In a time of need Franz and Abraham showed compassion and kindness. They worked with me and my family to find just the right flower arrangements. They went out of their way to help and supported us the entire way. In addition, they offered great prices, which made them more affordable.
Thank you,
With kind regards.
Tatjana Schmitt
I live in the Netherlands and needed flowers for my son who lives in Brooklyn. First I called the shop. The people I spoke to where very friendly. I ordered flowers on the website and payed with my creditcard. This went very easy.
Two days later my son send me a picture from the flowers that had been delivered. The delivering was exactly on time, And WOW, the flowers he had received looked exactly like the picture on the website.
This is the place that you can trust for flower delivery.
Next occasion i wil be back
Jacobus Hendrik
They really took their time to personalize the flowers in the way that we liked. They were professional, on time, and helpful. The quality of the flower arrangement were amazing.
Sarah Dolcin
Inspiration
The Best Flower Arrangements to Send to Family and Friends In times of celebration or grief, sending flowers to family members or friends can convey your heartfelt sentiments in a meaningful way. But with so many options to choose from,...

Read now

After a long fought 5 months with uncertainty, isolation, and hardship, we see the world is slowly coming back to its old self. As many still ask themselves, will wearing a mask be the norm? Will I ever be able...

Read now