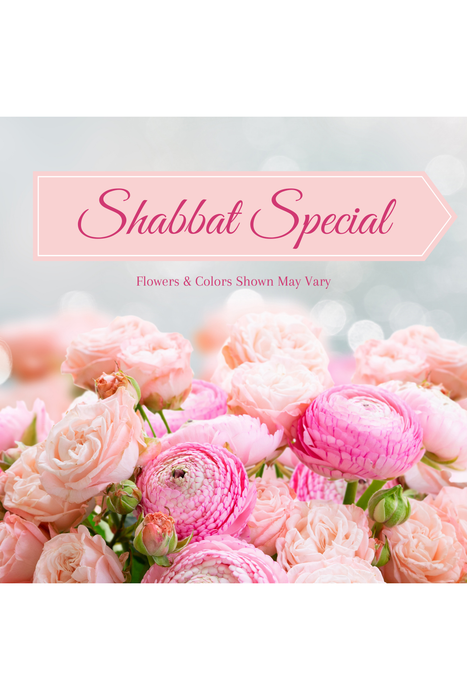 Shabbat Special
Original price
$45.99
-
Original price
$189.99
Welcome to Eclore Floral, your premier Brooklyn florist for exquisite Shabbat flowers that beautifully enhance your Sabbath celebration. Elevate your Friday evening with our handpicked selection of fresh, vibrant blooms crafted specifically for Shabbat.
At Eclore Floral, we understand the significance of Shabbat in Jewish tradition and the importance of adorning your table with elegant floral arrangements. Our dedicated team of floral artisans meticulously curates each bouquet to complement this sacred day, ensuring your Shabbat dinner is a visual and sensory delight.
Whether you're looking for fragrant roses, delicate lilies, or colorful mixed bouquets, our Shabbat flower arrangements are designed to symbolize the peace, serenity, and joy of Shabbat. Each bloom is carefully selected to provide a harmonious touch to your Shabbat table.
We take pride in offering a wide array of options to suit your personal style and preferences, ensuring that your Shabbat flowers align with your unique taste. From classic and traditional to contemporary and avant-garde, we have a Shabbat bouquet for every discerning customer.
When you choose Eclore Floral, you can expect:
Fresh, handpicked flowers every time
Customized arrangements to suit your theme
Expert craftsmanship and attention to detail
Reliable, on-time delivery
Competitive prices
Make your Shabbat a memorable and visually enchanting experience with our premium Shabbat flowers. Browse our collection and place your order today to bring a touch of elegance to your Sabbath celebration.
Enhance your Shabbat with the beauty of nature - choose Eclore Floral for all your Shabbat flower needs.
At Eclore Floral, we're delighted to provide the finest flower delivery services across New York. Our flower shop caters to several areas, including:
Brooklyn Flower Delivery: As your trusted local Brooklyn florist, we offer the best flower delivery in the borough. Discover unique flowers for every occasion right here.
Manhattan Flower Delivery: Enjoy the convenience of same-day flower delivery in Manhattan. We're your go-to choice for beautiful blooms in the heart of the city.
Long Island Flower Delivery: From Nassau to Suffolk counties, we extend our floral expertise to Long Island. Experience the charm of our handcrafted bouquets.
Queens Flower Delivery: Queens residents, we're here to brighten your day with our exquisite flower arrangements. Trust us for flower delivery that stands out.
Whether you're looking for the best flower delivery in Brooklyn or need a same-day flower delivery in Manhattan, Eclore Floral has you covered. Our commitment to quality and freshness ensures that your flowers arrive in perfect condition, ready to make every moment special.
"Custom Delivery Requests"
At Eclore Floral, we understand that sometimes you may want to send flowers to areas beyond our standard delivery zones. We're here to make it happen!
If you have a special delivery request to a location not mentioned above or if you'd like to inquire about our delivery options, please don't hesitate to get in touch with us. Our team is dedicated to accommodating your needs.
Contact Us:
Email: support@eclorefloral.com
Phone: (718) 940-0075
We're just a message or call away, ready to assist you in bringing the beauty of fresh flowers to your loved ones, no matter where they are. Your satisfaction is our priority, and we're committed to making every moment memorable.
Do you offer same-day flower delivery?
Yes, we are pleased to offer same-day flower delivery for your convenience. To ensure your flowers arrive on the same day, please place your order before 3:00 PM local time. Our dedicated team will craft your beautiful bouquet and ensure it reaches your recipient promptly.
For Even Faster Delivery: If you're in a hurry and want your flowers delivered even faster, we have great news for you! You can also place orders for select flower arrangements through DoorDash and Uber Eats. Simply click the links below to explore our available options:
Door Dash: CLICK HERE
Uber EATS : Click Here
We understand that sometimes you need flowers to brighten someone's day at a moment's notice. That's why we offer multiple delivery options to suit your needs. Whether you choose our same-day delivery service or opt for DoorDash and Uber Eats, you can trust us to make your floral gift a special and timely surprise.
Can I add a personal message or card to my flower delivery?
Certainly! We understand the importance of adding a personal touch to your flower delivery. You can include a heartfelt message or card during the ordering process.
Here's how to do it:
Browse through our stunning flower arrangements and choose the one that speaks to you.
When you proceed to checkout, you'll come across an option that says "Enter a gift note or special delivery instructions" below. Click on this option.
Frequently Asked Questions About Our Flowers
At Eclore Floral, we embrace the beauty of nature in every bouquet we create. While we strive to provide you with the flower varieties and colors as depicted in our photos, please understand that nature sometimes has its own plans.
Due to seasonal variations and flower availability, there may be times when we need to make substitutions to ensure your arrangement is fresh and stunning. Rest assured, these substitutions will always uphold the essence and aesthetic of your chosen design.
In rare cases, we may also replace the vase shown in our product images with one of equal or greater value, ensuring your arrangement is presented beautifully.
Your satisfaction is our top priority. If you have any questions or concerns, please reach out to our dedicated customer service team. We're here to make your floral experience extraordinary.
Thank you for choosing Eclore Floral, where every petal tells a story of natural elegance.